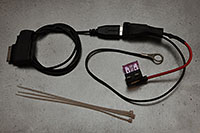 Hardwire Power Kit

Hardwire power kit for Audi vehicles with non-3G MMI radios.

This is an add-on kit that provides everything you need to provide power to the combo kit sold above. This kit solves the problem of how to deliver power to the Bluetooth receiver with radios that don't supply power to the AMI socket in AUX mode (see the first and last questions in the FAQ for more info). Everything is already soldered and ready to go.

Kit includes: custom 30-pin power injector, accessory socket, 12v-5v USB power adapter, add-a-circuit fuse tap w/fuse, and zip ties.

This kit takes advantage of the passenger side fuse block, and provides a clean install with no visible wires.

View the installation instructions

DISCLAIMER: Installation is simple, but this kit does require direct connection to your vehicle's electrical system. Like any accessory, you are solely responsible for this kit's use and correct/safe installation in your vehicle (see the FAQ for more info).

$79.00

IN STOCK

If ordered today, will ship out:

in 1-3 days